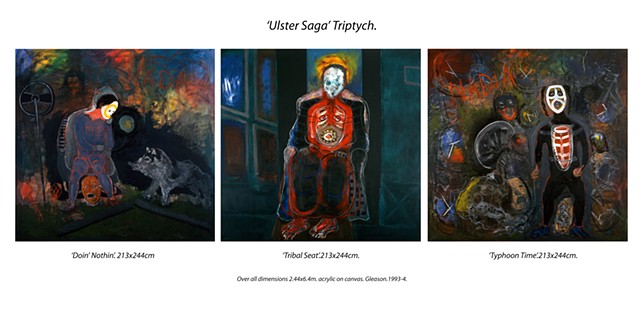 Ulster Saga 1993-4. by Gerry Gleason.
Dedicated to the critic and playwright
Brian McAvera, for his total support, throughout my career.

Acrylic on canvas
2.44x6.4m
The Ulster Saga Triptych was part of a cycle of ten works leading up to the ceasefires in N Ireland in 1994. Doin ' Nothin' (LHS Panel) is a local Belfast expression, the youth could be a joyrider, someone at a loose end who does not care much about anything, sometimes youths would steal cars to order for much darker reasons. Tribal Seat (Mid Panel) refers to the seat of power in the local communities and not unlike the Godfather looked up to but also feared. Typhoon Time (RHS Panel) the standing masked figure could be an activist a human bullet or bomb, the period leading up to the ceasefires seemed to me a crescendo of violence.